Parrots at Iguazu falls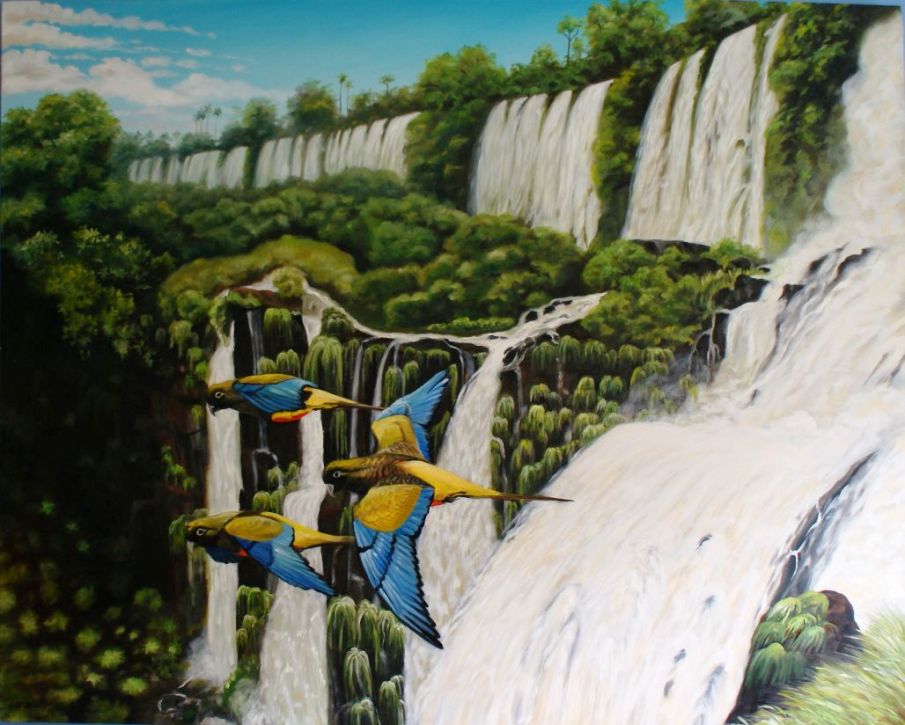 Author`s comment:
This painting is dedicated to waterfalls of Sete Quedas, which were buried alive by human greed and indiference.
Here below is an extract of a poem of Brazilian poet Carlos Drummond de Andrade, composed to commemorate the funeral of splendid waterfalls Sete quedas, which ceased to exist as the damn of Itaipu started to funcion and thus submerged hundreds of kilometres square of pristine jungle, including the magical waterfalls of Sete Quedas, on August 18, 1982, considered up to then one of the wonders of the nature.
Translation to English by Jan Kasparec follows:
Sete quedas por nós passaram,
e não soubemos, ah, não soubemos amá-las,
e todas sete foram mortas,
e todas sete somem no ar,
sete fantasmas, sete crimes
dos vivos golpeando a vida
que nunca mais renascerá
Seven falls which passed through us,
And we did not know, oh no we didn`t, how to love them,
And all seven perished,
And all seven vanished to air,
Seven ghosts, seven crimes
of living hacking the life,
which never again will ressurect.
Info about painting
Parrots at Iguazu falls

:
Painting in categories:
Jungle paintings, Nature
Dimensions:
width 60 inches, height 48 inches
Year:
2009

Painting sold
share on Facebook
go to top